Organisational Profile.
Mcneil & Argus Pharmaceuticals Ltd. 100 Rampur Sarsehri Road, Ambala Cantt is engaged in the Manufacturing, Marketing & Exports of Pharmaceutical Specialities including Antiretroviral Drugs since 1979 – A Land Mark of touching 34th milestone of quality production.
It has an established ultra modern facility as per WHO GMP Standards to Manufacture, Tablets, Capsules, & Liquids. The unit is managed by experienced technical staff for production & quality control along with a team of expert technicians who have the experience of more than 30 years in quality production.
The company has a Pharmaceuticals Formulation Plant located on a 25000 sq. meters plot situated at I PLANT 100, Rampur Sarsehri Road, Ambala Cantt (India) connected by Air from Chandigarh Airport, which is 45km from the factory location and from New Delhi International Airport which is at a distance of 200km.. The covered area is approximately 60000 Sq. Feet The factory is located in a calm, green serene atmosphere, away from any factory producing obnoxious odour or pollutants suited to manufacture rare molecules like Antiretroviral Drugs.
Plant-I
This plant is fully equipped for the manufacturing of Antiretroviral Drugs for the treatment of HIV+ve and AIDS cases.
Total Quality Management is achieved by:
Confirming to WHO GMP Standards.
All the job functions of the company are in time with its Quality policy. Total Quality Management of the firm is looked after by a Quality Assurance Executives. All department heads upto the Managers, maintain and follow Quality Management System, are guided and coordinated by the Quality Assurance Executives.
The Quality Managament Assurance with the help of any other personnel has the responsibility to see that all procedures are as per the standard operating procedures are followed. Personnel competence is also assessed by the Quality Assurance Executives is responsible.
All evaluation of procedures and validations are done by the Quality Assurance Department.
The factory is having its own fully equipped laboratory with all the In-House testing facilities of the products being manufactured.
It is also having adequate, competent Technical Staff to carry out the Manufacturing Operations Analysis.


The Quality Assurance Department is responsible for:

Preparing, issuing and updating Quality Assurance Policy. Maintaining and controlling all documentation related to technology transfer.
Each process operation has it own air handling system and has temperature & humidity controls. The corridors are also environmentally controlled and are at positive pressure as compared to the individual rooms to prevent any mixing of air / powder from each room to the corridors. Pressure balancing of each air handling system has been done to avoid any cross contamination.
Each Core Process Room is supplied with controlled air passed through pre filters having efficiency of 99% down to 5 μ followed by microvee filters having efficiency of 99% down to 3 μ and finally through H.E.P.A. filters having efficiency of 99.97% down to 0.3 μ. Separate return air ducts are provided in each room. Efficiency of 0.3 μ H.E.P.A. filters are determined by checking the velocity, pressure gradient of individual areas and based on the result, decision for filter changing is taken. Any major change in the design of air handling system calls for revalidations. The individual process area is designed to have a temperature varying from 210 C to 250 C are maintained. The corridors are kept at positive pressure with respect to the process cubicles 10% of fresh air taken in each re-circulation cycle of returned air.
The AHU's are designed to have air changes depending upon the process requirement.

Plant-II
This section is fully equipped to manufacture Beta Lactum range of drugs ie Ampicillin and other Pencilli derivatives. The Beta Lactum section is seprate and independent. The Air Handling Units with Hepa Filters and Thermostatically controller Humidity and Atmosphere temperature are installed here.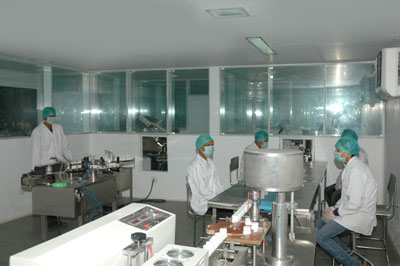 Plant-III
This section is fully equipped to manufacture Non Beta Lactum Group of Tablets, Capsules and LIquids. Modern and latest Machines are installed to give the best quality of Pharmaceutical Formulations Produced here.