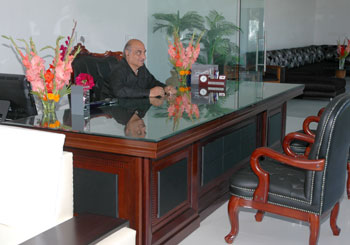 I feel immense pride and honour to welcome you in the family of MCNEIL & ARGUS PHARMACEUTICALS LIMITED- A trusted name for unwavering Devotion, Dedication, Acheivements and Service to mankind.
The company started its manufacturing of Pharmaceutical Formulations in the year 1979. The company has crossed many mile stones during its long journey of 34 years in Manufacturing, Marketing and Exports of Medicines. The Company was a leading and Trusted Supplier of Medicines to Central Government Health Scheme, Directorate General of Health Services, Ministry of Health & Family Welfare and many other Ministries & Autonomous Bodies of Government of India. The company achieved glory of paramount importance when it was awarded licence to Manufacturer, Market and Export of Antiretroviral drugs for the treatment of HIV+ve & AIDS cases.
The company believes that it owes a great deal to the society. The comparative low cost treatment of its Antiretroviral drugs has covered more number of ailing people and helped them to get rid of this dreaded disease. During this period the Company's Antiretroviral Drugs have been registered in a number of countries like Malaysia, Myanmar, Nepal, Nigeria, Zambia & Papua New GUinea etc. The Company has exported its Antiretroviral Drugs successfully to a number of countries apart from the above mentioned earlier. Some of the prominent countries where its products have been well accepted are Bangladesh, Congo Brazzaville, Mauritania, Fiji, Burundi and Equatorial Guinea etc. The Company has exported Lopinavir 80mg & Ritonavir 20mg per ml Oral Solution to Bangladesh on the special request from Bangladesh. It is a drug of choice for infants and new borns. We are sure that with your active participation in the eradication of HIV+ve and AIDS cases, the Company will always be there to help in every possles of Antiretroviral Drugs.
I once again thank all of you in helping the Company show a positive growth in the field of rare molecules of Antiretroviral Drugs.
Wish you a very bright future with our organization.
With profound regards & best wishes!